RISK ASSESSMENT TOOLS FOR IDENTIFICATION OF ERGONOMIC FACTORS ON MUSCULOSKELETAL DISORDERS FROM INVESTIGATIONS IN STATIC VERSUS DYNAMIC WORK
วรวรรณ ภูชาดา
บทคัดย่อ
          Risk assessment tools have been widely used to identify ergonomic factors in surveillance programs of work-related musculoskeletal disorders (WMSDs). However, the varieties of tools to be selected are still not clear for assessment on specific types of work after they are screened out. The objective of this review was to describe ergonomics risk assessment tools for occupational health research in Thailand. A search for relevant articles published from 2011 was performed. The search strategy considered terms and synonyms, the inclusion criteria of articles, and a sample representing work type. This work type included ergonomics, tools, and occupational activities. Then, the outcomes were evaluated by classification into subjective and objective assessment. The results indicated in these subjective or objective approaches were that most tools used in the studies were presented in only one approach in either static work or heavy dynamic work, or a combination of static and dynamic work. Particularly, the objective assessment approach in each type of work included tools which were very useful to explain the nature of work and to guide investigators for selecting the specific tool. The suggestion is that a type of muscular workload should be considered before choosing the tool. For future investigations of risk assessment on WMSDs development, in Thai workforce, the combination of both approaches (objective and subjective methods) should be considered.
Keywords : Musculoskeletal disorders / Subjective assessment / Objective assessment / Occupational activities / Workload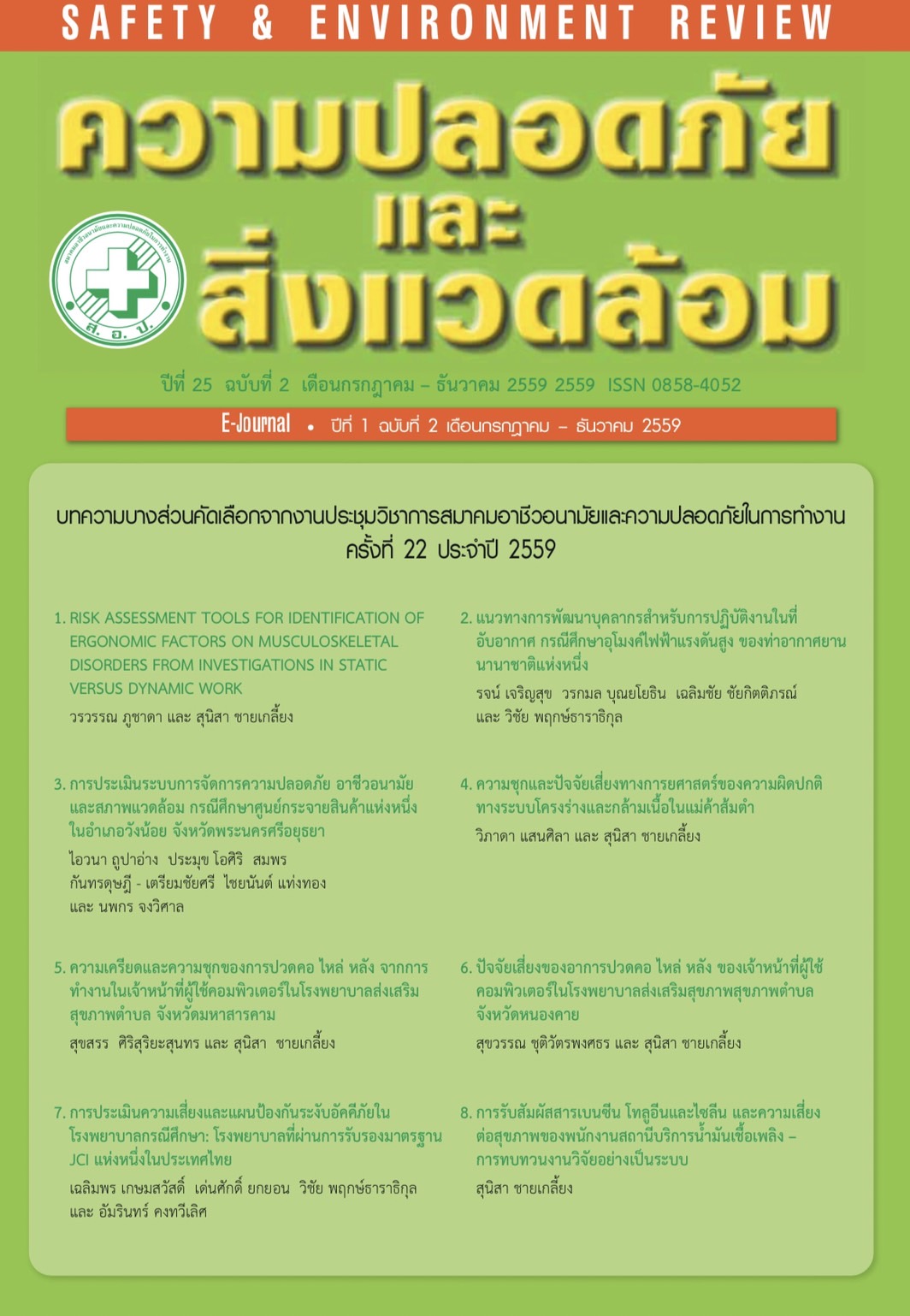 License
Copyright (c) 2022 วารสารความปลอดภัยและสิ่งแวดล้อม
This work is licensed under a Creative Commons Attribution-NonCommercial-NoDerivatives 4.0 International License.