FACTORS AFFECTING RESPIRATORY SYMPTOMS AND LUNG FUNCTION AMONG DRILL WORKERS IN SMALL-SCALE GOLD MINES AT SINT-KUU TOWNSHIP IN MANDALAY, MYANMAR
Kay Khaing Aye
บทคัดย่อ
          The objective of this study is to identify factors affecting the respiratory impairments (risk of respiratory symptoms and impair lung function) of drill workers in small-scale gold mines. Cross-sectional descriptive study of 230 miners from eight small-scale gold mines in Myanmar's Mandalay Region was conducted. Respiratory symptoms were assessed using a respiratory questionnaire modified from the American Thoracic Society and a lung function test was assessed by spirometry according to OSHA recommendations. Six samples of respirable dust were collected and analyzed by X-ray Fluorescence method in the Laboratory. The respiratory symptoms found among miners were cough (43.9%), phlegm (55.2%), wheezing (50.5%), shortness of breath (37.8%), breathlessness (25.6%) and chest tightness (1.7%). Lung functions revealed restriction in 43.5% and obstruction in 20.9% of miners. The mean concentration of respirable silica dust was 0.34 mg/m3, which is seven times above the REL of NIOSH. There was a significant (p<0.05) relationship between respiratory symptoms and (1) age (OR: 1.04, 95%CI 1.00, 1.08) for irritation symptoms and (OR: 1.04, 95%CI 0.99, 1.07) for dyspnoea symptoms (2) smoking (OR: 2.89, 95% CI 1.62, 5.17) for irritation symptoms and (OR: 2.79, 95% CI 1.56, 5.00) for dyspnoea symptoms. There was a reverse relationship between lung function test results and use of masks (OR: 0.53, 95%CI 0.30–0.92). Chronic exposure to respirable silica dust above the REL by miners who used a pneumatic jackleg drill to loosen the ores the risk of respiratory symptoms and impaired lung function. The risk increases with age and cigarettes smoking.
Keywords : Silica exposure / Lung function / Respiratory symptoms / Drill workers / Myanmar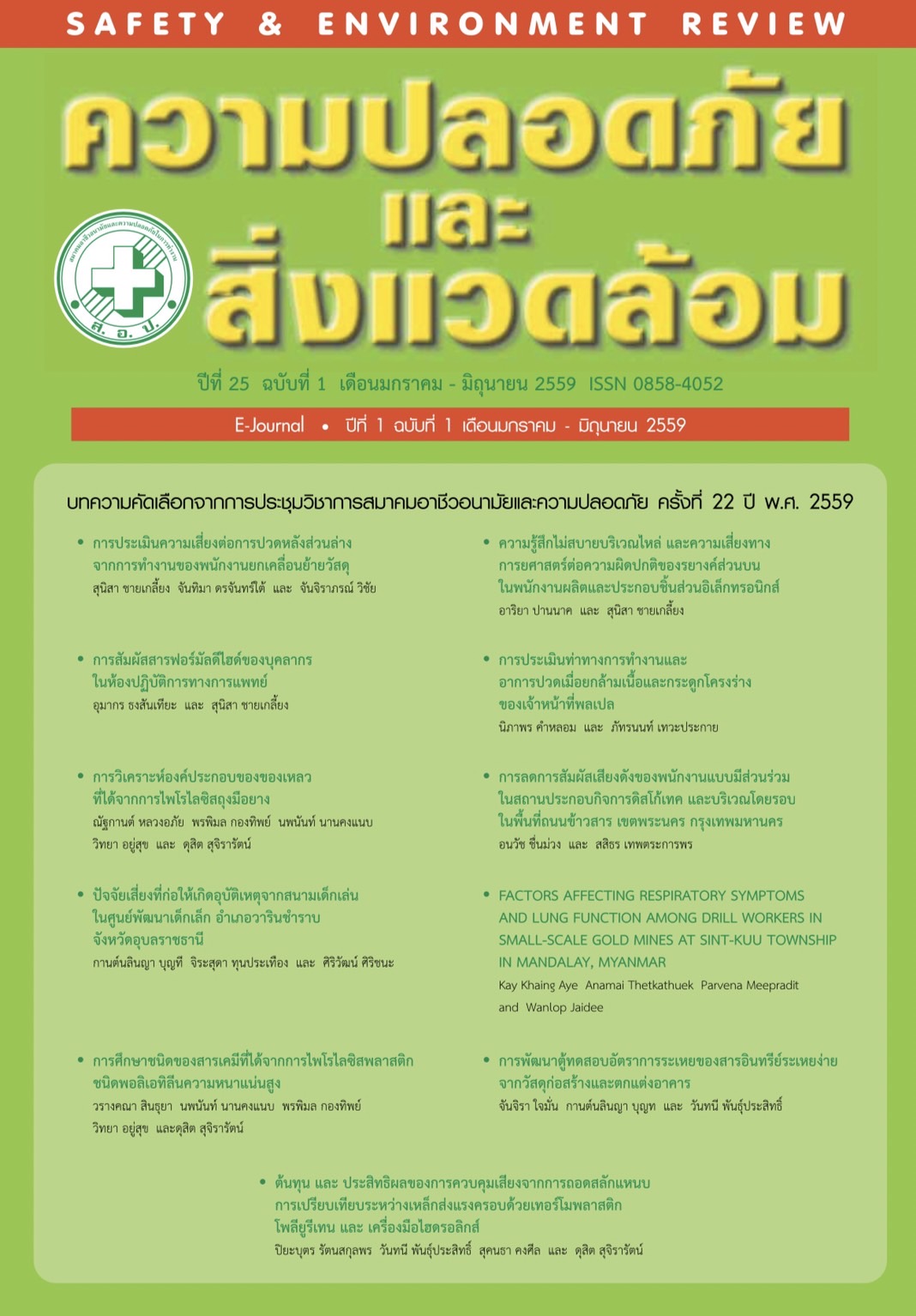 License
Copyright (c) 2022 วารสารความปลอดภัยและสิ่งแวดล้อม
This work is licensed under a Creative Commons Attribution-NonCommercial-NoDerivatives 4.0 International License.