Predictive model for high cost and complications in Nephrolithiasis patients
Keywords:
Predictive Analysis, Predictive Model in Clinical Use, Nephrolithiasis, Highcost Healtcare, International Classification of Diseases, Complications in Healthcare, Quality Healthcare, Length or Stay
Abstract
The average cost of treatment for patients with nephrolithiasis complications was twice that for those without (47,792.08 vs. 22,995.33 Thai Baht, THB). In-patient data for October 2014 to December 2018 were used to create predictive models in R. The C5.0 algorithm was used to create a decision tree to predict patients with high costs (>24,000 THB). The patient care team used the predictive model to revise their standard treatment procedures, and the model was evaluated after 8 months (May 2019–December 2019). In this period, 395 nephrolithiasis patients were treated using new treatment protocols. The average cost for patients with no complications did not change, but the average cost for patients with one or two complications decreased significantly (p < 0.05). Quality of care and patient safety were not affected, complication rates did not increase, but average length of stay increased from 3.72 days to 4.25 days.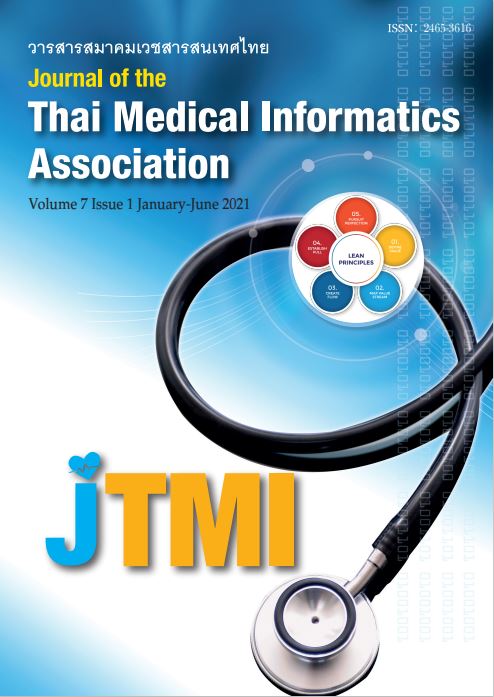 Downloads
How to Cite
Paoin, W. ., Pipatvech, K. ., & Issaranarongpan, S. . (2022). Predictive model for high cost and complications in Nephrolithiasis patients. Journal of the Thai Medical Informatics Association, 7(1), 1–5. Retrieved from https://he03.tci-thaijo.org/index.php/jtmi/article/view/121