Data analytic and predictive model for analysis of causes for a loss from diagnosis related groups (DRGs) payment of pediatric inpatient at Sunpasitthiprasong hospital
Keywords:
Component, Medical reimbursement, DRGs, Data Analytic, Pediatric Patient, Predictive Model, R Programming
Abstract
Sunpasitthiprasong Hospital is an excellent center of the 10th health service area under the Ministry of Public Health. Providing population care services in the lower part of northeastern region. The main income of pediatric care is derived from inpatient services which received from reimbursement of the National Health Security Office. Some patients have higher medical costs than their reimbursement. This study will create the database of pediatric patients who admitted in Sunpasitthiprasong Hospital. The data which related with Diagnostic Related Groups (DRGs) will be displayed, analyzed, and created a predictive model for improvement, change work process and resource utilization. The database were created from inpatient data record of 43 electronic files for 6 months during January to June 2020, including Admission number, sex, age, length of stay, insurance, ICD10 TH, diagnosis type, ICD9 CM, DRGs, Adj  RW, Charge expenses and reimbursement calculated according to DRGs. The loss from DRG reimbursement were 1,682 visit or 30% of total which totally loss 24,030,490 Bath. The predictive model with decision tree technique were using with R programming. The predict DRGs loss factor were patient age, blood transfusion, complication with septic shock and length of stay. The important factor will be used for strategy management, resource utilization and development of patient care process.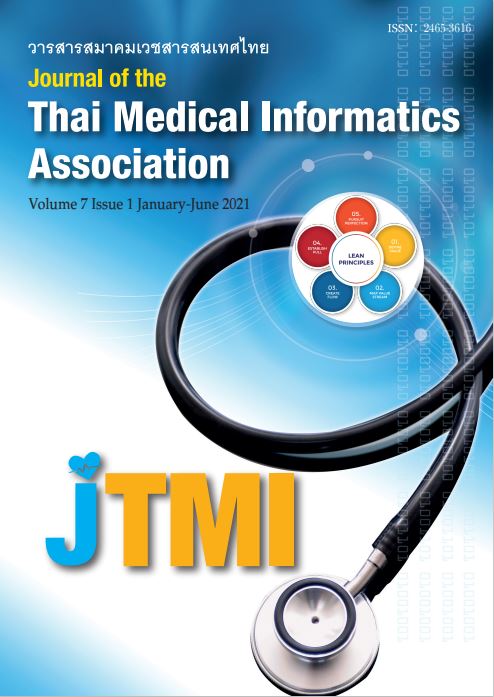 Downloads
How to Cite
Siwaprapakorn, W. . (2022). Data analytic and predictive model for analysis of causes for a loss from diagnosis related groups (DRGs) payment of pediatric inpatient at Sunpasitthiprasong hospital. Journal of the Thai Medical Informatics Association, 7(1), 12–20. Retrieved from https://he03.tci-thaijo.org/index.php/jtmi/article/view/124