Improvement refif of medical sub stock
Keywords:
Component, Inventory System, Drug Warehouse, Sub-Drug Warehouse
Abstract
Inventory system is an important system that covers all departments within the organization and has many of personnel involved. Nowadays, Inventory regulations are more detailed and complex while personnel are restricted. Imperative that Wang Thong Hospital has to review and improve the Inventory system to be more efficient. Lean concept and digital technology is expected to improve Wang Thong Hospital 's Inventory system. By setting the sub-drug warehouse to be the first starting point for transform the traditional drug order system, which is to check the balance of drugs by the pharmacy staff to be a new system based on prescribing information from the service program is summarized as the total amount used in the dispensing of drugs from the drug warehouse to replace the sub-drug warehouse. The results of the study showed that The list of Wangthong Hospital tablets was 191 items, most likely similar, with 43 pills with a difference of not more than 5 percent, nine of which had disbursements. However, the maximum difference was 144.83%. Therefore, in order to implement a medical disbursement system based on data from the hospital service program, a review and revision was required. Prescribe medication through the hospital service program to cover all dispensing from the first drug room. In addition, the drug delivery system must be reviewed and established to be consistent with the external services.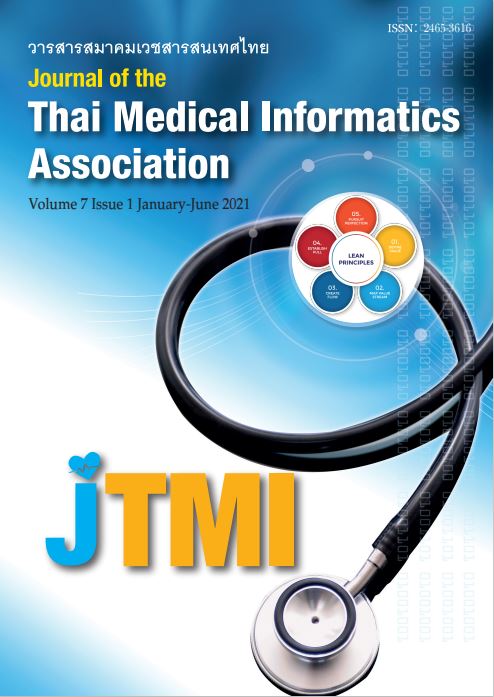 Downloads
How to Cite
Somboonjun, J. . (2022). Improvement refif of medical sub stock. Journal of the Thai Medical Informatics Association, 7(1), 35–40. Retrieved from https://he03.tci-thaijo.org/index.php/jtmi/article/view/127