System development to reduce waiting time of non-communicable diseases patient service in Napho hospital
Keywords:
Waiting time, NCD patient department, Community hospital, Community hospital,
Abstract
The problem of long waiting time which is a very important and long-standing issue in Thai public medical facilities.
It affects to the satisfaction of the patients and also causes the cumulative stress of healthcare workers. The result of treatment is ineffective. There is a lot of problem solving for reducing wait times but almost unfulfilled. The objectives of study are divided into 3 issues. (1) To study the waiting situation of outpatient groups of all departments of Napho hospital. (2) To adjust the planning of the new work system by dividing the patient groups and multidisciplinary groups according to the new system. (3) To reduce the waiting time in Non-Communicable Diseases (NCD) patient department service in Napho Hospital. The patients were divided into 3 groups, (1) The patients in good control of diseases, examined by nurse practitioner. (2) The patients in moderate disease control group was examined by a general practitioner. (3) The patients with complications or un-control group was examined by internal medicine. Principles for the rapid examination of patients in disease control groups. The patients with poor control of the disease were examined effectively. The results of the study showed that the waiting time for all three groups decreased by 16.78%. The most reduced of waiting time in the disease control group.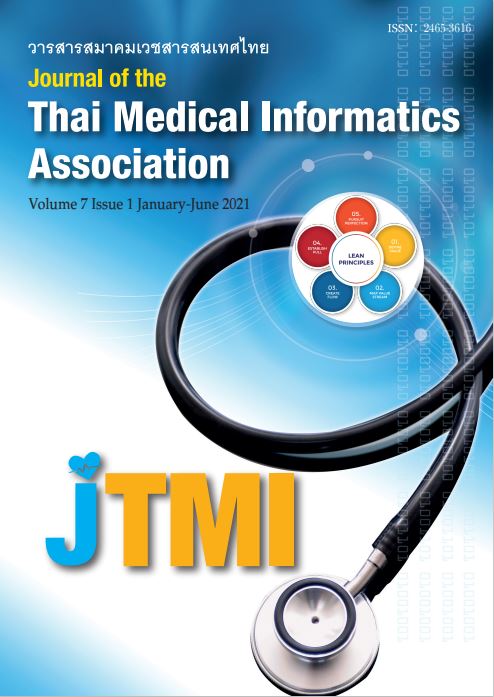 Downloads
How to Cite
Artsom, W. . (2022). System development to reduce waiting time of non-communicable diseases patient service in Napho hospital. Journal of the Thai Medical Informatics Association, 7(1), 41–46. Retrieved from https://he03.tci-thaijo.org/index.php/jtmi/article/view/128