Analysis of factors affecting the productivity of operating room nurses during office hours at Suranaree University of Technology Hospital
Keywords:
Productivity, Operating room nurse, Predictive model, Rstudio
Abstract
In 2020, the numbers of surgery-required patients and operating room nurses in office-hour periods at the operative unit of Suranaree University Hospital are continuously disproportionated. Such situation gradually reduces one of the key point indexes of the unit, operating room nurses' productivity. Even though there were some efforts, e.g. staff and schedule management, to alleviate the problem, the productivity remains unchanged. Therefore, this study is initiated to find out what is the main influence of such reduction that the unit staff can make an improvement.
From March to July 2020, there were 1,674 operated patients' data included in the study. The analyzed result indicates that the average productivity of operating room nurses is 55.95 percent per day, ranged from 10.0 to 88.3 percent. After comparing multiple factors and building a predictive model, the results demonstrate three main influencers-- number of practicing nurses, number of patients who receive operation per day and the departments of surgeons performing the surgery, which affect the productivity of 70 percent during office hours. These findings will be deployed as the guides for daily operating room nurses' assignments and departments' schedule adjustment. We believe that by applying this study's decision tree, time and manpower management in our institute will be more efficient.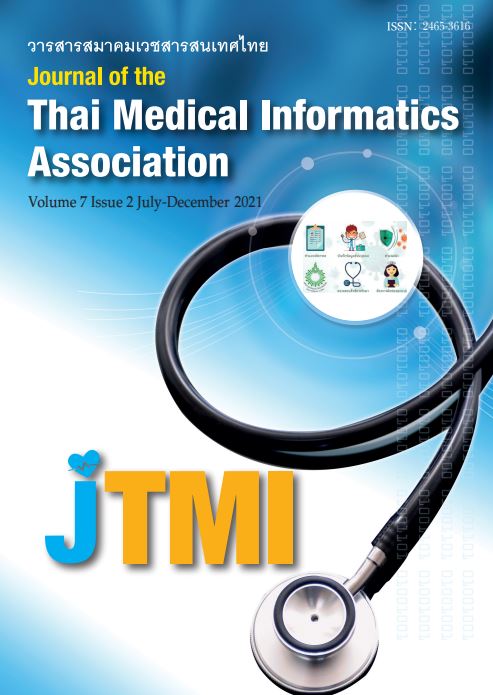 Downloads
How to Cite
Jintarax, A. . (2022). Analysis of factors affecting the productivity of operating room nurses during office hours at Suranaree University of Technology Hospital . Journal of the Thai Medical Informatics Association, 7(2), 47–54. Retrieved from https://he03.tci-thaijo.org/index.php/jtmi/article/view/2