Service Quality Development for OPD Thammasat University Hospital
Keywords:
LEAN managemrnt, Service quality development, Work process analysis, SERVQUAL, Thammasat University Hospital
Abstract
Thammasat University Hospital has served a large number of patients. Based on statistical data, this number has been continuously increased every year. The number of patients increase while the number of resource is limited. This situation effects on quantity and quality of the provided services. (Thammasat University Hospital, 2019) The hospital realized the challenges and has to continuously improve both medical and supported services. This study aims to improve service quality by utilizing management concepts which are work process analysis, service quality improvement (SERVQUAL) and Lean management to develop hospital's service system. The research objectives are 1) to study service situation in OPD (office hours) 2) to analyze needs and satisfaction levels of the patients and 3) to develop service quality for the OPD of Thammasat University Hospital by using Lean management. Mix methods research was utilized. The quantitative research was used to collect data from 133 patients to study needs and satisfaction levels. For the qualitative research, interviews were conducted with 9 service providers (executives and supervisors) to understand work processes of the 9 clinics. The results of the study can be concluded that the patients satisfy towards environment dimension of the hospital's service quality while they highly satisfy towards other 4 dimensions of the service quality, namely, credibility, responsiveness, reliability and empathy. To co-analysis with complaints in the past such as tone of voice of the officers, politeness, long waiting time and lack of clear communication, the study found that these issues have been handled and the current patients are satisfied. By using Lean management to develop service process, the study utilized data from the patients together with from the interviews to draft the service process in the OPD of the hospital, analysed wastes and eliminated them. The service activities were accessed into 3 categories which are value, non-value but necessary, or non-value. The research outcomes offer service process re-design which was reduced from 10 to 6 processes. The 6 processes are 1) scanning barcode to get smart que 2) initial screening 3) medical consulting 4) made a payment 5) receive medicine. Reducing the service process to 6 processes will reduce waiting time, reduce service time, eliminate repeating process and increase value for the rest processes.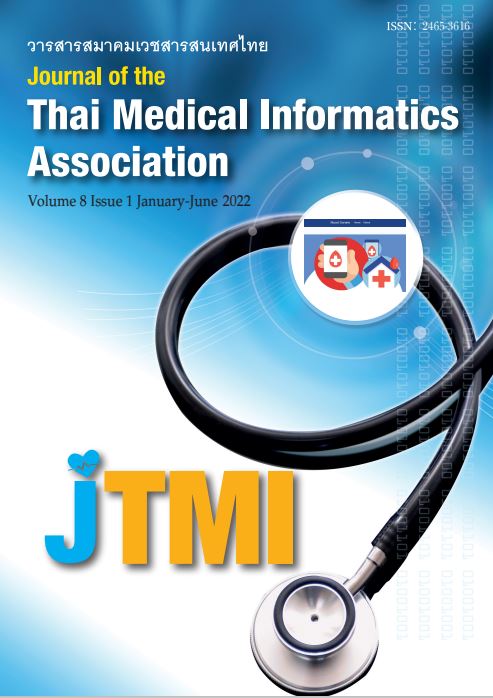 Downloads
How to Cite
Hongwilai, P. ., Sirisrisornchai, T. ., Kanchanapongporn, A. ., & Jeerasitkul, U. (2022). Service Quality Development for OPD Thammasat University Hospital. Journal of the Thai Medical Informatics Association, 8(1), 38–45. Retrieved from https://he03.tci-thaijo.org/index.php/jtmi/article/view/201