Prototype development of falling tracking system of patient or elderly people using internet of things
Keywords:
Falling Tracking System, Internet of Things
Abstract
At present, it was found that the number of older people has increased due to the advanced in medicine and care for the health of the elderly. With this changing trend, preparing for effective healthcare of the elderly in terms of health and safety is essential. The researcher has an idea to develop a system that can support the safety of patients or the elderly by detecting falls in patients or the elderly who living alone or sick elderly who need to take care using the Internet of Things (IoT) that can detect an effective fall by installing the developed device to the patient or the elderly. The developed device uses sensors Accelerometer together with Gyroscope for accurate measurement of X, Y and Z axes and connect to Arduino UNO R3 board. When all sensors obtain the data, the program will process the values of the X, Y and Z axes that the resulting value is act u ally a fall or not. The condition was examined by using the particular patient's threshold, which is the value obtained from the 4 falling types scenarios including: left-hand fall, right fall, forward fall and behind fall. In addition, it also detected the daily use behavior such as lying to sleep, sitting or walking. The AIS NB-IoT connected to the Arduino UNO R3 board will send the received data to Magellan and use Magellan's Dweet API to connect to Node-red to retrieve data to a database and send notifications to users' smartphones using the administrator's Line application when a fall occurs. Based on experiments to determine the accuracy of 4 types of falls and daily life, the accuracy of each of the 20 events were obtained as follows: the left-hand, fall was 90%, right-hand fall was 85%, behind fall was 85% and forward fall was 90%. The accuracy of daily use behavior: was lying to sleep was 100%, sitting was 100% and walking was 100%.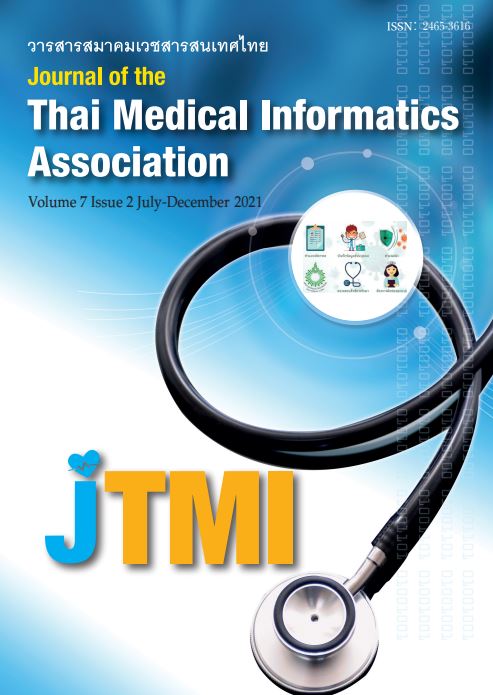 Downloads
How to Cite
Chaiyakote, K. ., Manatarenart, W. ., & Tantatsanawong, P. . (2022). Prototype development of falling tracking system of patient or elderly people using internet of things. Journal of the Thai Medical Informatics Association, 7(2), 69–75. Retrieved from https://he03.tci-thaijo.org/index.php/jtmi/article/view/7